Lagavulin: Port Ellen, Islay, Argyll
Owning Company: UDV
Production Status: Operational
Established: 1816
Water Source: Solum Lochs
Location: Occupying a site of six areas, at the head of a small bay


scotchwhisky.com's whisky gifts and whisky selections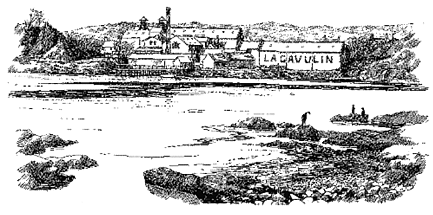 The Distillery
Situated in a small bay near the south coast of Islay, Lagavulin stands near the ruins of Dunyveg Castle. From here 1,000 Islaymen set sail to fight alongside Robert the Bruce at Bannockburn in 1314, and in this bay the Macdonalds maintained their power base as Lords of the Isles until finally driven out by the Campbells three centuries later.

Lagavulin legitimately claims to being one of the oldest distilleries in Scotland. Distilling on the site is thought to date from as early as 1742. In the late 1700s it is believed that there were up to ten illicit stills operating in the district. By the 1830s only two distilleries remained in the bay. In 1837 these distilleries amalgamated to form Lagavulin. At this stage the distillery was under the ownership of the Graham brothers and James Logan Mackie.

The Distillery Today
By 1875 Lagavulin was producing 75,000 gallons of whisky.

The Whisky
Lagavulin has been described as the aristocrat of Islays. It has an unmistakable, powerful, peat-smoke aroma. Described as being robustly full bodied, well-balanced and smooth with a slight sweetness on the palate.